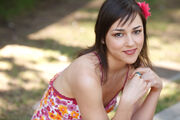 Josephine Anne Connors
History
Josephine was born in Mission Creek in July of 1996. She was born to her mother Denise in the Mission Creek Correctional Facility, where Denise was incarcerated for murdering Josephine's father Kenneth while she was pregnant. So Josephine, being orphaned since she was a baby, was put from foster home to Foster home. Currently, she is living with the Davenports after she befriends Adam, Bree and Chase. She is 17 year old and portrayed by Cyrina Fiallo.
Friends:
Adam Davenport, Bree Davenport, Chase Davenport, and Caitlin
Enemies:
Stephanie,  Trent,  Principal Perry,  Marcus Davenport,  Douglas Davenport
Relationships:
Adam Davenport- Josephine's relationship with Adam happened the second they saw each other in English Class. Then Adam asked her on a date, which turned into the night their first kiss happened...and then when she confessed she had nowhere to go, Adam talked to Davenport and arranged for Josephine to stay with them. They are still currently together.
Physical Appearance
Josephine has shoulder length brownish-black hair with the most beautiful blue eyes ever (according to Adam). She stands about 5'6" tall, but has very long legs, so she tends to strut like a model when she walks . She has a Henna tattoo of a celtic symbol on her upper left arm and a beauty mark below her left eye. She has a scar on her right leg from when she survived a knife fight in Junior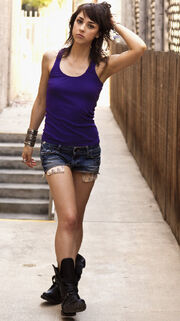 High.

Bionics and Abilities
Because of an altercation she had with Marcus... Davenport gave Josephine the following bionics:
- She has an audio recorder chip in her brain
-A video recorder fake right eye (after she lost her real one in the fight with Marcus.)
-She has Super Strength like Adam, which was given to her by Marcus and Douglas after she was kidnapped by them