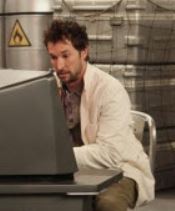 Dr.Steven Evans
Gender
Male
Age
Unknown (Presumed 39)
Height:
Unknown-Taller than Chase
Nationality:
American
Hometown:
Mission Creek
Professional Information
Profession
 
Chief Scientist
Affiliations
 
Donald's best scientist,Douglas's double agent
Friends and Family
Parents
Mr.Evans,Mrs.Evans
Siblings
Unknown
Spouse(s)
Holographic wife
Friends
Donald,Chase,Adam,Bree,Douglas
"
Wow the gamma rays they're so beautiful i thought they are alot more blinding.
"

— DR.Evans,Twas The Mission Before Christmas
"
Yes,I know Douglas,I'm a double agent.
"

— Dr.Evans to The Lab Rats
 He is Donald davenport's chief scientist.Who lives in Facility X in the frozen Tundra.He is also a double agent working for Douglas.
Dr. Evans lives all alone in Facility X. To not be lonely, Dr. Evans created a holographic wife for himself. He is considered Donald davenport's top scientist. Dr. Evans also helped create the bionic siblings; Adam ,Bree   and Chase  . Finding Chase very annoying, Dr. Evans agrivates Chase in the episode 'Twas the Mission Before Christmas, but not enough to trigger Spike . Dr. Evans has appeared so far in only one episode.
Personality
Edit
He has a complexed life even with others.He is a double agent working for Douglas and tries to infiltrate the lab rats he is very smart.And finds Chase very annoying when he repeats that he is the smartest person on the planet.